Although there are some substances that contaminate groundwater over large areas, the use of organic chlorine-based solvents such as trichloroethylene tends to be more localised. Moreover, they tend to have a common low boiling point and volatility, so that recently the phenomenon of subterranean air pollution has been identified (Prof. Hirei, 1989).
Therefore, by closely examining the shallow areas just below the surface it is possible to determine how, where, and why contaminants infiltrated the soil and even whether they have penetrated to the groundwater. This technique is known as the Kimitsu™ Contaminated Vadose Zone Assessment technique as it was developed in 1988 in Kimitsu (Chiba Pref., Japan) by Yoshikazu Suzuki (Kimitsu Dept. of Environment [at the time]) Professor Hisashi Hirei (currently: Centre for Water Environment Studies, Ibaragi Univ.) et al. for deployment at a trichloroethylene contaminated site.
First of all, the initial hole is simply drilled by hand (using the GASTEC boring rod) to open a 0.85m deep sampling hole. Then, the appropriate detector tube (connected to an extension pole) is lowered to the bottom of the hole and the concentration of gas is measured at the end. This method is simple, inexpensive, accurate and has good reproducibility. Moreover, it allows you to obtain immediate results from the measuring onsite, making it an indispensable tool for assessing soil/ground water contamination.
Example of Kimitsu™ Contaminated Vadose Zone Assessment
Easily and accurately determining the extent and spread of soil contamination
Drill a hole in the ground with the Boring (drill) rod(No.361) and measure the contaminants present in the gas in the hole; by taking measurements at multiple points on a site the exact distribution of contaminants can be assessed.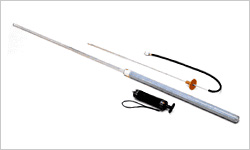 How to sample

General information on gas measurement