Oxygen detector
GASTEC's Oxygen detector can quickly and accurately measure oxygen concentrations at a variety of different work sites subject to host of complicated and varying factors.
All come with a high performance galvanic cel sensor.
Calibrates to oxygen level of 21% with one-touch
Large easy-to-read display
Low power consumption
Sensor cable holder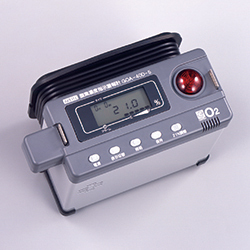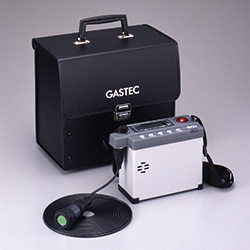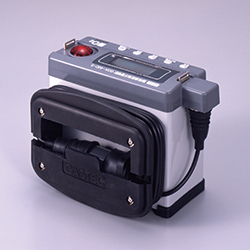 *The products may not be sold depending on countries and regions.
Specifications
Measurement range
0.0 - 25.0% (also measures 25.1 - 42.0% for extra range)
Measurement principle
Galvanic cell
Sampling method
Diffusion
Display
Digital LCD (backlit)
Indicating accuracy
+/- 0.5 %O2 ( 0.0 - 25.0 %O2) +/- 3.0 %O2 ( 25.0 - 42.0 %O2)
Alarm threshold
<18%
Alarm signal
intermittent sound and blinking light
Explosion proof
Certified by Japan Ministry of Health, Labour and Welfare (Class ia2G3 Certification No.T65119)
Operating Temperature / Humidity range
Temperature : -10 - 40 ℃

Relative humidity : 30 - 95 %RH
Power source
Four size C manganese batteries provide about 4000 hours of operation (without alarm signal being emitted/25ºC
Dimensions
153(W) x 71(D) x 133(H) mm
Weight
1.4kg
Product inquiries
Please use the relevant link below to make an inquiry.