The compact body permits accurate measurement of CO and CO2 in buildings and offices.
Can simultaneously measure carbon monoxide and carbon dioxide, quickly and accurately.
The product is small and light, weighing a mere 600 g. It can thus be carried around with ease.
The indication accuracy for CO is +/-1ppm, putting it in the high reliability class (within the range of 0-10 ppm).
The energy conservation switch reduces the drain on the batteries.
The lighting switch enables you to easily read the measured results even in a dark location.
The CO sensor can be replaced by the customer.
The product can be powered by three kinds of power supply (dry batteries, nickel-hydrogen rechargeable batteries, and AC supply).
24-hour measurement can be performed (by using the optional AC adapter).
Incorporates a logging function.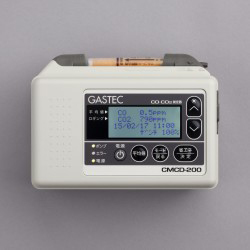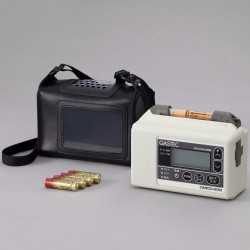 Specifications
Target gas
Carbon monoxide
Carbon dioxide
Measurement range
0.0 - 50.0 ppm (Service range: 50.1 - 59.9 ppm; For 60.0 or higher, "OVER" is displayed.)
0 - 6,000 ppm (Service range: 6,000 - 9,950 ppm; For 10,000 ppm or above, "OVER" is displayed.)
Measurement method
Controlled potential electrolysis method
Non-diffusion infrared absorption method
Sampling method
Diaphragm pump
Display
LCD digital display (Displayed contents: Instantaneous concentration, Average value over 1 minute, Time and date, Remaining battery capacity)
Indicating accuracy(20ºC, during calibration)
0 - 10.0 ppm: +/- 1ppm
10.1 - 50.0 ppm: +/- 5 % of full scale
0 - 2,000 ppm: +/- 50 ppm
2,001 - 4,000 ppm: +/- 100 ppm
4,001 - 6,000 ppm: +/- 300 ppm
Operating Temperature / Humidity range
Temperature : -5 - 40 ℃
Relative humidity : 30 - 90 %RH
Power source
Four Size AA alkaline batteries or nickel-hydrogen rechargeable batteries, AC adapter (optional)
Dimensions
155 (W) x 72 (D) x 95 (H) mm (Excluding protrusions)
Weight
600 g (including batteries)
*The products may not be sold depending on countries and regions.
Product inquiries
Please use the relevant link below to make an inquiry.