Explosion proof catalytic combustion type sensor
Hand-held methane gas detector is a small, lightweight, hand-held device for detecting the presence of methane gas. It employs an optimized combustion-type contact sensor that enables the detection and measurement of flammable gas to guard against the possibility of explosion.
Compact and lightweight
Low power consumption sensor
Analog display shows LEL or concentration (%)
For exclusive measurement of methane gas only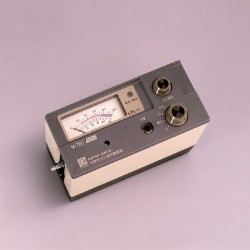 *The products may not be sold depending on countries and regions.
Specifications
Measurement range
0 - 25%LEL, 0 - 100%LEL
Measurement method
Catalytic combustion gas sensor
Sampling method
Diaphragm pump
Display
Analog metre (backlit)
Indicating accuracy
+/- 5% of full scale
Alarm threshold and signal
20%LEL
Alarm threshold and signal
Intermittent sound and blinking alarm light
Explosion proofing
Certified by Japan Ministry of Health, Labour and Welfare (Class id3aG3 No.T62339)
Operating Temperature
-10 - 40℃
Power source
Three size C manganese dry cell batteries for 4 hours of operation (without alarm signal being emitted)
Three size C alkaline dry cell batteries for 8 hours of operation (without alarm signal being emitted)
Continuous working time
Manganese dry batteries 4 hours, Alkaline batteries 8 hours (When an alarm signal is not output, for both types)
Dimensions
151(W) x 71(D) x 115(H) mm
Weight
1.1kg
Product inquiries
Please use the relevant link below to make an inquiry.